10 Times Taylor Swift Gave Us Squad Goals
You know your squad has arrived when SNL does a sketch about it.
Taylor Swift's Squad is poised to take over the world, and we couldn't be more thrilled. She has redefined #SquadGoals for the modern era. Each picture of her and the squad makes us thirsty for more, thirsty for a squad of our own. For inspiration, we turn to the queen of #SquadGoals herself. These are some of the times Miss Swift gave us high-reaching #SquadGoals.

When the Taylor's squad knew how to have a laugh while looking fierce on the Red Carpet: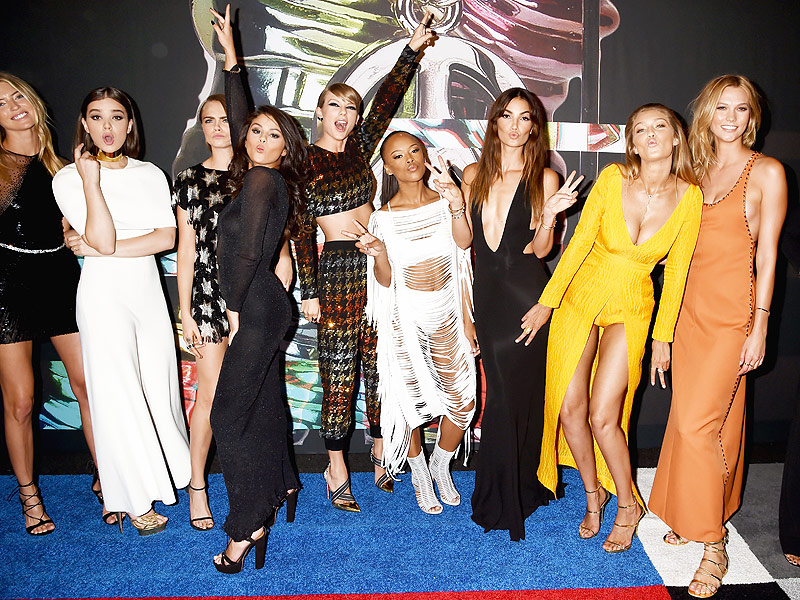 From left to right: Martha Hunt, Hailee Steinfeld, Cara Delevingne, Selena Gomez, Taylor Swift, Serayah, Lily Aldridge, Gigi Hadid, and Karlie Kloss. This is too much hot awesomeness in one photo. Are y'all still breathing? (Image source)
When those same girls from above broke it down during the awards show:

Let's be honest, Taylor's the best dancer of the crew. (Gif source)
When Dr. Meredith Grey showed up to support Taylor's squad:

If Meredith approves, we approve. (Image source)
When Idina Menzel and Taylor Swift made a 2-person squad for Halloween that was EVERYTHING:

We won't ever be able to let this one go. #Perfection
When Taylor transformed 5th Harmony into 6th Harmony:

This squad is so "worth it!"

When Taylor brought back a classic hit song and invited Avril Lavigne to join her squad:

We know making a squad this strong is probably super "complicated," but Taylor Swift makes it seem so easy!

When Taylor and Lorde embraced, and we knew our squads could never measure up:
Everyone around them is so jealous. We're not even there and we're jealous. (Gif source)
When all Taylor needed was her BFF to gives us all #SquadGoals:
These two have "style," and they're "fearless"-ly fierce.
When Blake Lively leaped into the same air Taylor Swift was breathing:
We feel like "Gossip Girl" would have a TON of things to say about this. Spotted: Serena joins the most powerful Squad on the planet. Sorry Upper East-Siders, but we think Taylor is the new Queen Bee. xoxo
And finally, when Taylor proved that sometimes, all your squad needs is you, and nothing more:

The ultimate #SquadGoal. (Image source)